Stage 2 of Justin Dugan's 2019 Mustang GT Build (VIDEO) – Can he hit 10's N/A?
Click on the image below for further details..
AmericanMuscle's (AM) resident Mustang expert, Justin Dugan, recently produced and released video of the second stage of his 10R80-equipped 2019 Mustang GT build!
In this episode of Hot Lap, Justin and AM's master tech, Joe Gallo, fire the parts cannon at Justin's Stang to try and hit 10's naturally aspirated in the quarter mile.
Featuring products from brands like BMR, Ford Performance, Viking, Stainless Works, JLT, and Lund, Justin works his way through a shopping list of Mustang mods while explaining why he chose them.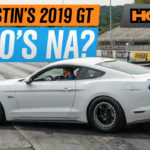 Watch it here: https://www.americanmuscle.com/hotlap-january-2020.html
Watch Stage 1 here: https://www.americanmuscle.com/hotlap-july-2019.html
---
You may also like: