Original Vintage NSU RO 80 Manufacturer's Repair Manual in English and German | eBay
Click on the image below for further details..
Original Repair Manual for NSU RO 80 by NSU.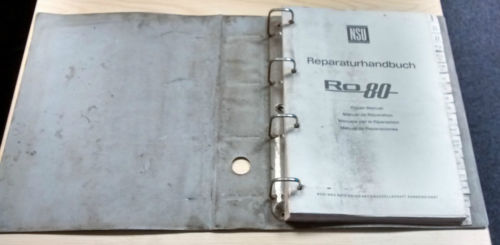 This manual is supplied in the original NSU folder and isn't in bad condition considering the original owner kept it in a damp garage for the first 30 years!
It's been kept in a nice dry office for all the time I've had it, so it's in pretty good overall condition.
Please note: it is in English AND German!
The manual consists of 99 pages, split into relevant sections. It's all here, and it's intact. The pages are slightly dark around the edges (grubby-looking) – probably a result of the first owner's garage – see earlier.
It's HEAVY – so the postage reflects this. Plus, I need to add the insurance as well.
This item will be sent in secure packaging, via Hermes tracked delivery service in the UK.
International shipping is via eBay's International Shipping Service – I don't know how much that will cost at this point.
Source: Original Vintage NSU RO 80 Manufacturer's Repair Manual in English and German | eBay
---
You may also like: